21 Gifts that Give Back this Christmas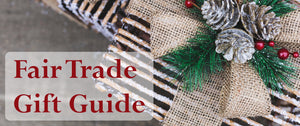 #KnowWhoMadeIt - Each beanie is hand crocheted by a female artisan in Peru who then signs the tag when finished. With a 100% acrylic slouchy fit, the simple solid color makes for a great cold weather accessory and gift this holiday season.
Designed in Chicago and made in India, this 13" laptop case includes a face tag of the artisan who made it. This case has a slim profile and is the perfect balance between padded protection and versatility.
In Haiti, the poor often resort to eating clay cookies, a nutritionally poor substitute for food. The same clay that some eat is used to make this mug which provides jobs and lifts people out of poverty. 16oz // Microwave safe 
This multi-function tote showcases the purchaser's commitment to ethical fashion. Features include an adjustable strap, magnetic closure and an interior pocket. Subtle variations in each product demonstrate the uniqueness of artisan produced, 100% Ethiopian leather bags.

Celebrate with words of the season this Christmas. Each piece is handcrafted by artisans in Croix-des-Bouquets, Haiti from a recycled 55 gallon steel drum. Each drum is flattened, chiseled and polished by hand.
Handcrafted by a survivor of modern-day slavery, the Journey Brass Ring adds a touch of shine to your fingers. It is lightweight and comes together to form a "V" shape in the center.  It is great for everyday wear and can be worn alone or stacked. Size 7.
This beautifully simple, handmade "Joy" necklace serves a great reminder to find joy in life even when life gets difficult. It is handmade by artisans in Haiti and measures 32" long.
This rich, chocolaty hot cocoa is crafted using organic cacao (cocoa beans) grown by the farmers of CONACADO co-operative in the Dominican Republic, organic sugar cane from small-scale farmers in Paraguay, and organic milk powder from Organic Valley dairy co-op in the U.S. Size: 12oz
Made by refugees in the United States, the Peace candle features the scents of tobacco leaf blended with bergamot and notes of cinnamon, clove and amber. 
These coasters are hand woven in Gonaïves, Haiti. Each bundle of four comes with a hand stamped aluminum pendent. 4" diameter and approximately 1/4" thickness.
Available in white, turquoise or grey, these hand-dyed coffee bean wraps offer colorful texture. They are 7.5-8" in circumference. 
This gorgeous cuff is lightweight and easy to wear, making it the perfect everyday bracelet. 
Handcrafted by a survivor of modern-day slavery 
2 1/5" wide
This gorgeous cuff is lightweight and easy to wear, making it the perfect everyday bracelet. It is handcrafted by a survivor of modern-day slavery and measures 2 1/5" wide.
Fit all of your day's essentials in this classy clutch. It is made from full-grain, Haitian vegetable-tanned leather and is hand-stitched. This clutch is 10" wide by 6" tall. 
Three strands of Haitian vegetable tanned leather are braided together to form this hand crafted bracelet accented by solid brass hardware. Each bracelet is uniquely crafted by artisans in Haiti who are provided with meaningful jobs and a fair wage.
Handcrafted in Ethiopia, the Tirhas is a classic leather saddlebag that can be worn both cross-body or on one shoulder. The large compartment has a fold-over top with a magnetic snap and is great for keeping your essentials secure.
Boho-chic meets Haiti in these handcrafted leather dangle earrings. They are available with a turquoise, white or grey accent bead.
This farm-to-table Haitian chocolate is milky, sweet, and empowers rural families with social & environmental responsibility. 1.5 oz
These beautiful keychains are made of genuine Kenyan cow leather and adorned with bright beads. Each keychain is made by the mothers of children who receive an education through our partner program Heshima.
The Triangle Linen Toiletry Case is perfect for the ethical global traveler who wants their purchase to make an impact on artisans in Haiti. This leather-accented, fully lined toiletry case is the perfect size to stuff in a backpack or cary-on suitcase
Meticulously hand-crafted, the Natural Canvas Tote is the versatile tote for your everyday needs. It is sturdy enough for shopping or as your go-to bag.
Natural Haitian leather  acts as the binding of this high-quality journal. Large: 8" by 9"
Leave a comment
Comments will be approved before showing up.
---
Also in News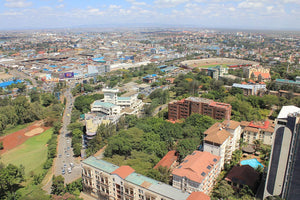 Swahili is spoken by approximately 140 million people, and it is East Africa's lingua franca. Swahili is the national language of three African countries, and it is spoken fluently in many others.