Artisan Story: Lakareber Doreen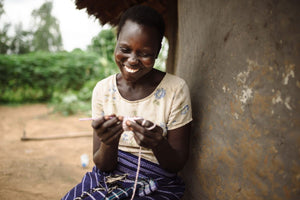 Meet Lakareber Doreen
From the beginning, the two things Doreen hoped would come from her time at KK Uganda have been buying a plot of land to expand her farming business and providing education for her children. Doreen has always stayed focused and determined to achieve great things, but before her success was struggle. She loved attending school as a child, but ultimately had to drop out because her father could not afford to pay tuition for her and her siblings. Her village was war-torn, and her dreams for the future appear to move farther and farther away.
Today, Doreen is different from the woman she was when she first started the program in May 2011. She started out very shy and reserved, but she has grown into a powerful woman who takes pride in her work and in herself. After years of dealing with misfortune and sadness, the strides she has made during her time at KK Uganda have been great. She now has the confidence in herself to speak up at meetings, contribute her thoughts and ideas, and works in perfect harmony with her mentors and fellow beneficiaries. Doreen still has some time before she graduates from the program in February of 2018, but she is already working towards her future.
Doreen is known for having a green thumb – you'll find her elbows deep in dirt enjoying the opportunity to teach her children the art of gardening and the satisfaction of growing your own food. With the help of skilled training and resources she's gained at KK Uganda, Doreen transformed her passion for gardening into a profitable business. In addition to saving the income she earns working at KK Uganda, she started a rice farm in her home village in Anaka two years ago. Since beginning her rice farming agribusiness, her harvest hasn't disappointed.
Her plans for the future include expanding her farm in the next season, but providing for her loved ones is also incredibly important to Doreen. Access to healthcare, nutritional food, and the ability to place her children in school has completely changed the quality of life for both Doreen, her husband, and her four children. We asked Doreen if she had a message to share, and she said, "I want to thank the KK intl. program and all its supporters for the efforts they are putting forth to eradicate poverty through this life changing program."
Doreen has experienced first-hand the impact of true empowerment. From starting her own business to gaining confidence within herself, Doreen is already achieving her dreams. Thanks to Doreen's will and strength, her and her family will thrive.
Partner Source: Krochet Kids
https://www.krochetkids.org/2017/lakareber-doreen/
Leave a comment
Comments will be approved before showing up.
---
Also in News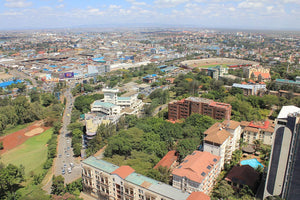 Swahili is spoken by approximately 140 million people, and it is East Africa's lingua franca. Swahili is the national language of three African countries, and it is spoken fluently in many others.