Microloans
At Vineworks we believe that one of the most powerful ways to eradicate poverty is through producing goods in developing countries, whether to grow businesses in those countries or sell those products in the United States. We take this one step further and give back at least 50% of all profits into the communities that we source fair trade goods from. This provides both immediate jobs and long term capital to help make a difference around the globe.
One of our new give-back partners is Kiva which facilitates microloans that "can help a borrower start or grow a business, go to school, access clean energy or realize their potential. For some, it's a matter of survival, for others it's the fuel for a life-long ambition." This past year we have directed our support to entrepreneurs in Peru, Uganda and India. Through your purchases we have have been able to support farmers, clothing producers and grocery store owners this past year.
Leave a comment
Comments will be approved before showing up.
---
Also in News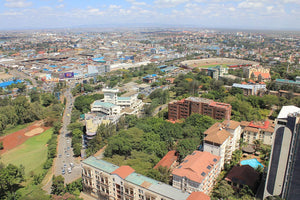 Swahili is spoken by approximately 140 million people, and it is East Africa's lingua franca. Swahili is the national language of three African countries, and it is spoken fluently in many others.