The Journey From Steel Drum to Metal Art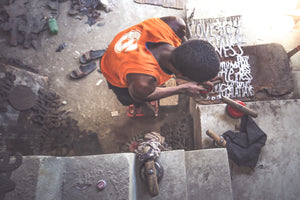 The Artisans
Metal artisans in Haiti earn a living by transforming recycled steel drums into art that can be displayed indoors or out. In Croix-des-Bouquets, Haiti, steel drums that were once used to transport oil throughout the country become unique and valuable works of art
The Process
Artisans start the metal art process by removing the round end pieces of the drum with a hammer and chisel. They then burn away the previous paint and leftover oil from the drums by filling the drums with banana and/or sugar cane leaves and setting them on fire. Once all the residue is gone, artisans flatten the wall piece of the drum with hammer and chisel to create their canvas.
Once their canvas is prepped, the artisans draw designs onto the metal with chalk. Once the design is complete, they cut out the design with the same hammer and chisel used to take the drum apart. After the design is cut out, the artisans coat the art with a protective finish to keep the piece from rusting.
The Art
Most metal artisans in Haiti have been working with the drums for their entire lives. Many families have been making metal art for generations.
Each piece of art is handmade and unique. The skill that has been developed over years of working with steel drums shows through the quality of the metal pieces. The most popular art design made in the Croix-des-Bouquets metal market is the "Tree of Life" design. There are many variations of this design, but the concept is widely popular and well-known. Another popular design is the cross. Many Haitians are either religious or spiritual, so the cross is an important symbol in Haiti.
Sources: haitimetalart.com, youtube.com
Leave a comment
Comments will be approved before showing up.
---
Also in News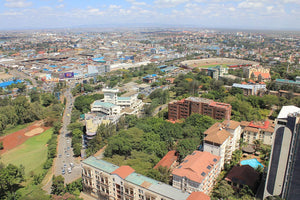 Swahili is spoken by approximately 140 million people, and it is East Africa's lingua franca. Swahili is the national language of three African countries, and it is spoken fluently in many others.